Chronode was founded in 2005 as a company which specializes in developing highly complicated hand made movements. Their first alarm movement was done for Harry Winston, and was named C501. In 2011, Chronode became a part of Cyrus group. Based on C501 Chronode developed an alarm movement HUB5003, especially for Hublot. Hublot presented this movement in its Big Bang Alarm repeater watch in 2015. Hublot gave the permission to Cyrus for this movement to be used exclusively also in 38 limited edition watch Cyrus Klepcys Alarm. The movement for this watch is slightly modified (GMT complication is removed), it also has a different code name CRY1280. All stated movements are hand winded two spring barrels with one stem and crown types.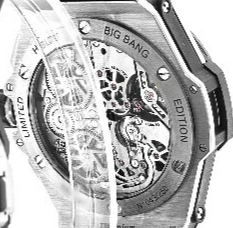 Instruction manual:
Central crown in position 0: winding time and alarm.
Central crown in position 1: Setting the alarm (only to 5 minutes interval).
Central crown in position 2: Setting the time.
Pusher above the crown: Setting the GMT time.
Pusher under the crown: Alarm on/off.