2MČZ - Vtoroj moskovskij časovoj zavod - was established already in 1924 but watch production started only in 1941. Soon after that company was moved into Čistopolj (due to German attack on Moscow in winter 1941). After 2MČZ returned to Moscow, production in Čistopolj continued under the new watch company - ČČZ later known as Vostok.
In 1951 company launched first lady watch with the brand Slava. Brand Slava was step by step used by all major 2MČZ watches, and finally company changed it's name to Slava. Beside Slava, company used at least the following brands or names of the watches: Cornavin, Molnija, Pobeda, Saljut, Sekonda, Start.
2MČZ used hallmark Č2Z on it's movements.
Slava survived the fall of the Soviet Union, but company in 2006 went into bankrupcy. Original Slava production building was brought down in 2010. Exclusive rights for production of Slava watches together with movements and parts from 2006 years are being leased to the Slava Trade House company. History of Slava brand is therefore continued by company TH Slava, so those watches are presented in the "Legacy section".
2MČZ wrist watches:
Rekord is not a 2MČZ watch, but has it's movement...
2MČZ pocket watches
I have quite interesting collection of pocket watches. 2MČZ produced pocket watches in the period 1945-1958. All watch movements are also marked with the production period date. The pocket watch collection is in fact the best part of 2MČZ collection, that I still have.
The most important pocket watch is one pusher chronograph, which is the first fully soviet serial produced chronograph watch.
Next, other pocket watches are shown. All watches have the same movement, which is based on Corbert 620 movement, copied and first produced in 1946. Older version had 15 jewels, followed by 17 jewels upgrade. Since project showed a succes, production of this pocket watches was expanded also to Čeljabinsk, where first pocket watches were made in 1947. As said, 2MČZ abandoned production of pocket watches, but it was very succefully continued in Čeljabinsk under the Čeljabinsk watch factory, later known as Molnija. In Molnija this movement was further developed into 18j version, under the soviet clasification code of the movement was 3602. Even though this Molnija 3602 still looks identical to presented 2MČZ movements, 3602 is in fact not compatible with 2MČZ movements!
Slava lady's watches - USSR period
Slava always was an important producer of lady's watches. Beside Čajka Slava was the only USSR watch company which was a serious lady's watch producer. I have just few of them.
Slava watches - USSR period
While Čajka was known particulary by it's lady's watches, Slava was very important producer of man's watches as well. The most known Slava movements are day/date movements 2416 (hand winding) and 2427 (automatic) movements. Those two moments also preveail in my remainings of the Slava collection.
I would like to point out Slava Televizor, also (or better) known as Slava Tank, since I also have a reissue of this watch (shown in TH Slava section). Comparisson of original and reissue of Slava Televizor can be found in my articles.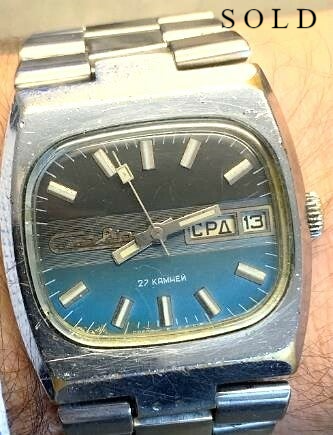 In the 1990s, many Slava movements were exported to China. Fake made Slava watches appeared, but with changing logo "Slava Sozvezdie" (Слава Созвездие) or CJIABA and often marked by "Russia" on the dial. Those watches have nothing to do with the Slava company nor later TH Slava and are unlegitimate fakes!